Submitted by

admin

on Wed, 12/11/2019 - 19:01
Omega Cabinetry has always been known to design quality products and 2019 showed no signs of slowing down.
At American Cedar & Millwork, we value brands that pride themselves on the quality millwork materials they design. But when quality meets creativity and originality, that's how we know we're working with a trustworthy brand. This year was full of creativity and originality, compliments of Omega Cabinetry—and with the exciting new materials, colors, and door styles they released this year, homeowners in Millersville had a lot to be excited about. But before we head into 2020, let's take a look at the impressive cabinetry themes homeowners had the pleasure of applying to their homes this year.
Storage and Organization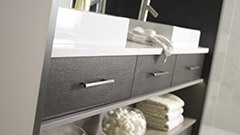 When it comes to easy living, Omega cabinetry brought a powerful blend of design, functionality, and quality. The incredibly innovative storage and organizational solutions they released this year are sure to calm your nerves and put your mind at ease with fluid continuity throughout the kitchen space.
Cabinet Material Finishes

New textured laminates brought a modern and relevant boost to contemporary home décor. Homeowners in 2019 got to try out Omega's new, trendy extended color palette, offering homeowners more creativity in their options when they choose Omega's Full Access Cabinetry. Colors clockwise from the top: Park Bench, Rain Barrel, Pergola, Lake House.
Cabinet Colors
Omega's classic kitchen cabinet colors are true strokes of genius. Blue and Green undertones are at the top when it comes to kitchen and bathroom cabinetry in 2019. But the trend is just getting started. The Amalfi and Dusty Miller color tones are available to homeowners looking for something new in their cabinetry décor.
Amalfi adds a rich blue-green to the Omega color palette. Reminiscent of the waters of the Italian coastline, we believe this color will play a big role in 2020 kitchen and bathroom décor.
The Dusty Miller undertone is named after the Dusty Miller plant you would find in your garden. The gray-to-green color combination brings a bold tone to your kitchen and bathroom cabinetry, working as a perfect accent color, or as a featured stand-alone color option.
Cabinet Doors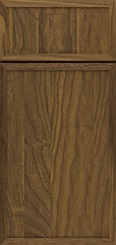 Cool, simple, and the perfect cabinet door option for subtle kitchen and bathroom décor. This year, Omega released the Jax cabinet door collection, and should continue to make its way to residents throughout Millersville.
The Jax cabinet door style is the perfect option for the modern designed living space. Jax is known for its slim-line contemporary mitered door that lends a cool and composed tone, a ¾" stile and rail detail surrounding a veneer center panel, five-piece drawer front, and is available in Alder, Cherry, Maple Oak, Quartersawn Oak, and Walnut.
From the early stages of creative planning to the cabinet installment, Omega Cabinetry makes every home remodeling an enjoyable experience. 2019 showed us some impressive kitchen and bathroom cabinetry options that will grab the attention of homeowners into 2020, and beyond. Omega is known for providing quality millwork materials and designs to homeowners in need of a decorative and functional boost to their living space. Here at American Cedar & Millwork, we are proud to work with one of the most trusted brands available. To find out more about our services and the other trusted brands we carry, click here.