Submitted by

Vicky Neal

on Tue, 07/12/2022 - 18:31
Following is a brief synopsis of characteristics of the most popular kitchen styles in 2022 with accompanying pictures,  And of course, all the shown projects were designed by our very own American Cedar & Millwork Kitchen & Bath Designers.
Contemporary
Sleek, minimalist, and geometric defines the contemporary kitchen style and when it comes to cabinetry, simplicity is the goal. The lack of ornamentation on flat, frameless cabinetry creates a sleek look – no matter the color of the cabinets.  Most of a modern kitchen's visual appeal also comes from the purposeful use of natural materials, like the horizontal grain of wood or veining in marble counter tops. Glass, concrete, stone, and exposed brick are other popular choices in these sophisticated spaces. Neutral components from the cabinets to the walls ensures perfect illumination of the kitchen space and light reflection.
Transitional
The Transitional kitchen style, which is most popular today, combines rich traditional features with sleek and clean lines of contemporary design elements.   Traditional kitchens tend to have many decorative accents, while modern designs tend to be simple. Transitional kitchens mix both looks for a visual balance. This includes simple cabinetry, as with shaker style cabinetry, and natural materials of marble, quartz, and granite. Transitional kitchens typically have an open concept, making a kitchen island a common feature.  Islands are sometimes matched to the color of the wall cabinets or sometimes painted an accent color for contrast.
Traditional
Traditional kitchens are characterized by their decorative details and embellishments which add character and charm while also being functional.   Traditional kitchens tend to feel down to earth and homier. They are what one might associate with a family environment, as opposed to the sleek, cutting-edge contemporary kitchen. A traditional kitchen style may have antique finishes, grooves, moldings, and other ornamental elements.  This includes cabinetry with more flare, raised panels and decorative, embellished hardware.  Hardwood, ceramic tile, or patterned stone flooring also adds to the comfortable feel.
Coastal
Coastal style kitchens have an easy and relaxed open vibe.  White cabinets are the trademark of coastal style – often paired with sea blues, sandy tans or ocean greens for a backsplash or other beach inspired accents. Cabinets may be two colors – mixing white cabinets with ocean-inspired blues and greens. Appliances and decor can also provide a pop of color against a mostly white kitchen. Open shelving (or cabinets with glass doors) showcase dishware and nature-inspired accents to the room. Wood chopping boards and kitchen utensils on display add to the coastal look. A kitchen island with wooden or rattan stools or a simple white or light wood table anchors the kitchen. And light, often grey, wood floors complement the entire scheme and add to the open, airy feel.
Cottage
Cottage kitchens are unpretentious, guest friendly and cozy. Their design flair comes in the form of floral patterns, period hardware, and beadboard, to name a few possibilities. The traditional cottage kitchen features wood planks underfoot, often reclaimed wood flooring.  The Farmhouse sink is another popular feature for Cottage kitchens. Sometimes referred to as apron-front sinks, farmhouse sinks are deep enough to contain big pots and pans ad are typically, white ceramic. Butcher-Block Counters combine functionality with warmth, a hallmark of the cottage style. Fixtures also go a long way in creating a period feel. As Victorian styling was the rule when many cottages were built, Victorian faucets fit right into cottage kitchens. Designers often recommend concealing appliances behind sliding wood panels so shiny stainless steel doesn't ruin the cottage feel.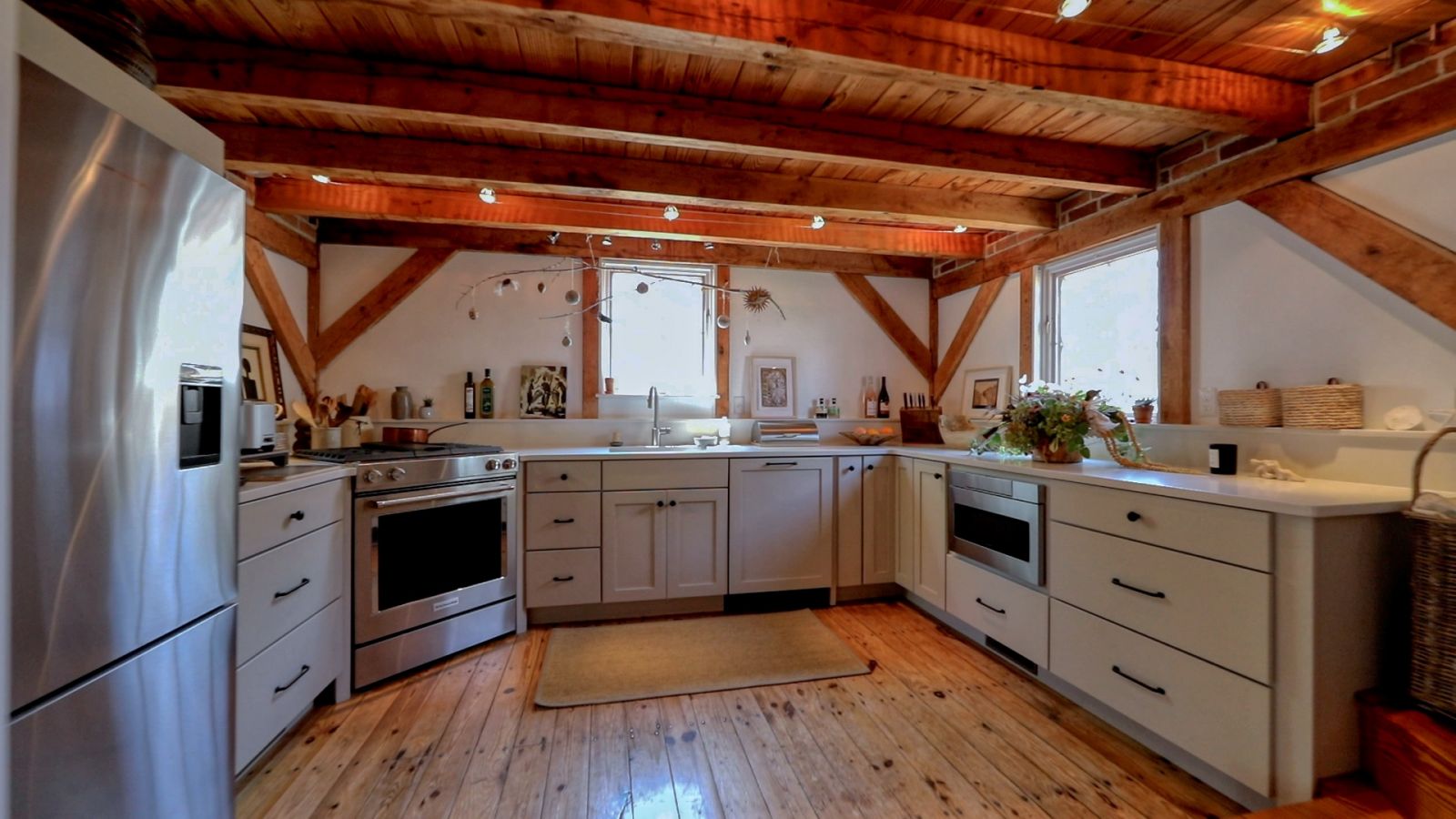 Whatever your personal style, American Cedar & Millwork has accomplished designers on staff at each of our locations to work with builders and homeowners to design and build your ideal kitchen.