Submitted by

admin

on Wed, 02/16/2022 - 15:55
Contemporary kitchens in 2022 are full of elegant minimalist designs and multifunctional spaces with flexible zoning. The designs are meant to feel simple yet sophisticated with a few surprises for jaw-dropping appeal.
If you are thinking about a kitchen remodel or redesign project but need some inspiration we have you covered. We've simplified the current contemporary kitchen trends into 6 easy to follow ideas.
So no matter if you want to completely remodel your kitchen or just add some renovations to make it feel completely new, these trends will provide you with the insights to make it happen. Of course, if you need a little help our kitchen designers are willing to provide a helping hand. Just give us a shout. But for now, here are the top features of contemporary kitchens in 2022.
Features of Contemporary Kitchen: Designs and Ideas
Minimalist Cabinetry with Functional Storage 
Cabinetry forms the structural foundation of a kitchen. It encapsulates the kitchen's style and ties the individual elements together. Contemporary kitchen cabinets will have a very clean and elegant look but will maintain their functionality. Here are a couple of examples you might see:
Frameless cabinets
Hidden designs
Unique drawer storage
Many contemporary designs do away with the bulky feel of traditional cabinets. Additionally, modern cabinets are being made to blend in instead of stand out in order to make the kitchen area feel less cluttered. 
At the end of the day, cabinetry not only needs to look great but it also needs to remain functional. This is why you will find many cabinetry items that "hide" in the kitchen design or that have unique storage spaces so that functionality is not lost with the minimalist look.  
Countertops and Islands that Make a Statement
Statement Pieces are a big trend in contemporary kitchen designs. They are elements designed to stand out without being too "bold" which adds a unique one-of-a-kind charm. A statement piece can be any noticeable element. A distinct lighting fixture, a backsplash, unique cabinetry around the stove, or most commonly used, an island. 
There are many ways to create a statement piece, but here are a few go-to design ideas to use: 
Appealing stone material such as marble, quartz or granite. 
Distinct designs such as waterfall islands
Bold color choices 
Unique shapes or proportions
Islands, tables and lighting fixtures are commonly used as statement pieces because they are right at the heart of the kitchen.  However, a statement piece can be whatever you want it to be. It is after all, your personal touch.
Subtle or Very Distinct Lighting
When it comes to lighting, there are two almost opposing trends. One is the use of subtle and almost hidden lighting to match the minimalist feel while the other uses distinct fixtures to make a statement. Here are examples of both:
Subtle lighting
Recessed lighting
Linear lighting
Unique uses of Natural light
The distinct side of lighting:
Fun, oversized or unique designs that become the center of attention
Layered lighting that brings multifunctional use with style
Lighting has always been and always will be an important part of a kitchen. It's up to you to decide what role you want the lighting fixtures to play. Whether you want your light fixtures to be a work of art or to serve a function without being seen, both can work well with a contemporary kitchen.
Muted Colors with Eye-catching Accents
Many designers are opting for the use of muted color palettes when designing newer kitchens but with a twist of bright accents. The contrast between the muted colors and a few key accented pieces brings an artful sophistication that's warm and welcoming. The colors used will vary from kitchen to kitchen but here are some of the most popular color shades we are seeing right now:
Dark colors like black or dark gray
Neutral and wood tones
Muted shades of greens and blues
Pops bright colors such as white, yellow, pink and red
These muted colors with a contrasting bright accent are great because of the artfulness and versatility they provide when designing a kitchen. 
While muted colors are a rising trend there are still many homeowners and designers who choose white or light colors in their color schemes. A white or light gray kitchen that uses bright accents has a very similar eye-catching effect as a muted color scheme which utilizes the same. So, while muted darker shades are on the upward trend, you can still enjoy white in your contemporary kitchen if you choose.
Simple yet Elegant Hardware and Accessories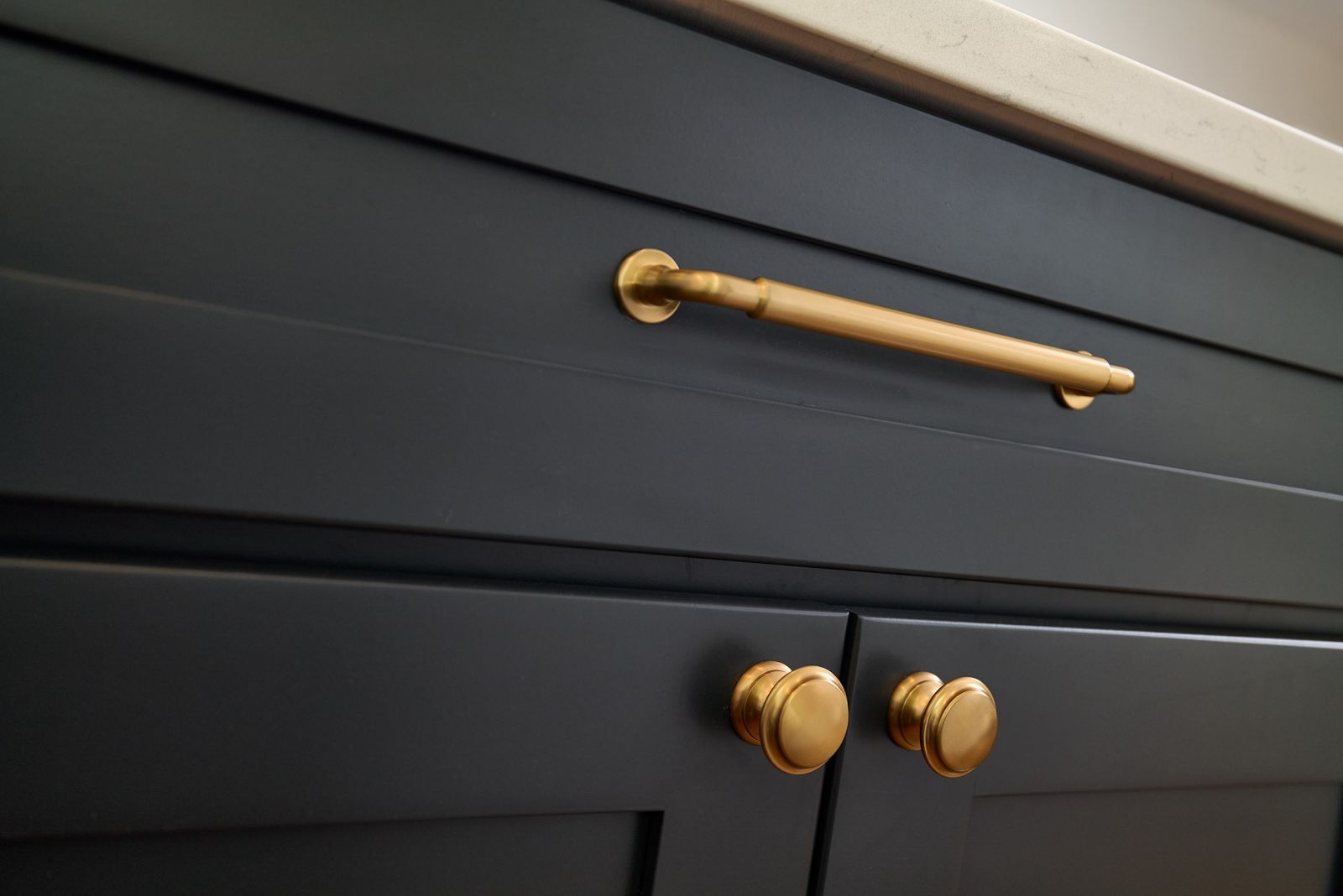 Many contemporary designs are minimalist in nature. As you can see from the designs so far, there is an emphasis on simplifying the look while bringing elegance with accents. A contemporary kitchen's hardware and accessories are no different. A contemporary kitchen will use simple yet elegant designs in its hardware. Here are a few examples:
Metallic accents such as stainless steel, chrome, gold, or brass add an elegant touch.
Simple "barely there" hardware consisting of button knobs and thin pull handles.
Handleless cabinets that take the hardware out of the equation are also on the rise.
When it comes to hardware and accessories you not only want functionality, but you also want a design that will accent the entire kitchen.
Modern Appliances to Finish the Look
With a contemporary kitchen comes modern appliances that flow with the various styles of kitchens. Appliances are not just for functional purposes but can also be seen as accents to the rest of the kitchen. Here are some of the modern appliance features you will likely find:
Touchless 
Smart technology
Simple
Looks that match the kitchen's accents and hardware
When it comes to appliances that match a contemporary look, there is a multitude of options. Functionality to fit the home's needs is the number one priority, but make sure this is done with a style and color that matches the rest of the kitchen's accents. 
Designing your Contemporary Kitchen
Every kitchen should be designed with how it will be utilized. Whether it is used for cooking, dining, working, socializing, or all of the above, will determine how it is designed. A contemporary kitchen should look great but maintain its core functionalities. 
When thinking about designing your kitchen it's best to think about how you want to improve your old kitchen(s). An upgrade should be just that. Not just a new look, but an improved overall feel. Make a list of what you need from the kitchen and then create a contemporary design that bridges both your ideal functionality with the look of modern elegance. For many, the kitchen is the heart of the home. Don't settle for anything less than perfection.
If you're not sure where to get started or get overwhelmed with the finer details (which is easy to do), then reach out to a kitchen designer with experience creating contemporary kitchens.