Submitted by

Vicky Neal

on Thu, 07/21/2022 - 19:34
Imagine a home that's flooded with natural light, a home that offers a wealth of immersive and calming views and helps your body receive the right light at the right time.
Imagine a home that prioritizes the kind of spaces where you can rest, recharge, or gather with loved ones, a home that encourages you to breathe easy. Explore the possibilities of what a home can be when its design is inspired with your well-being in mind.
Meet Marvin's Skycove.
Available in select markets, the Skycove is a glass structure that projects into the open air. It creates a smart extension of usable space, opens a room to panoramic views, and ushers in restorative light from four directions.
Skycove creates an intimate nook to escape, relax, and rejuvenate, yet Skycove' s ample and customizable seat bench is large enough for several people to gather, engage, and share.  Rejuvenate solo, or gather, engage, and share with others in a cozy space that's bathed in light and surrounded by the kind of outdoor connections humans crave.
Skycove creates an extension of up to 20 square feet of valuable space without extending a home's footprint. Whether located in a bustling living area, or placed in intimate rooms like bedrooms and dens, Skycove can be your favorite retreat.
Features of Skycove
Connection: Sightlines under 3 inches, including vertical posts, create a seamless connection to the outdoors and more light than traditional rough openings. The cantilevered structure provides unique, elevated vantage points and the top glass opens the view to the sky above.
Valuable space: Carefully selected sizing makes the space comfortable for one or more. The integrated bench offers 16 to 20 square feet of usable space, extending the home's footprint.
Modern aesthetic: A minimal, geometric aesthetic and glass on all sides offers more immersive panoramic views than a traditional bay or bow window.
Flexible design: An aluminum interior provides a clean aesthetic, and its seating bench can be finished to suit any home style. The frame includes a built-in recess for shade solutions if more privacy is desired.
Comfort: Carefully chosen and tested materials, bottom insulation, proprietary high-density fiberglass exterior and dual or optional triple-pane glass. Low E3 glass is standard to reduce solar heat gain.
Performance: A patent-pending steel structure is independently certified and designed to hold a heavier load than the average outdoor deck without additional structural support. A 4-degree sloped, flush-glazed roof with waterproofing flange protects the structure from water infiltration. The product is also certified and warrantied by Marvin.
Worry-free installation: Arrives on the job site fully assembled. Installation takes less than a day and no additional pieces or parts are required.
Technical features include:
Adds up to 20 square feet of usable space
Available in four sizes: 101" x 86", 101" x 70", 78" x 86", and 78" x 70"
4° slope on top glass and flush glazing sheds debris and prevents pooling
Narrow 2 7/8" sightlines provide expansive, unobstructed views
Insulated seat cavity provides improved thermal performance for comfort in all temperatures
Steel structure allows the strength to accommodate multiple people
Certified and warrantied, unlike custom-built options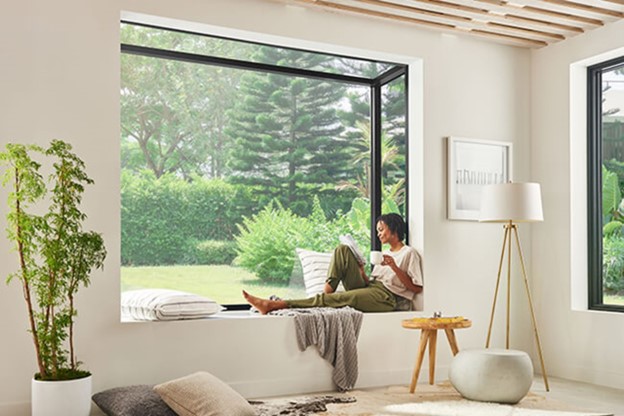 For more information on Skycove call American Cedar & Millwork today.  Or stop by our Millersville, MD or Raleigh, NC showroom to see the Skycove in person.  For information on Marvin's complete line of windows and doors, please visit www.marvin.com.