Submitted by

admin

on Mon, 03/28/2022 - 13:21
So, you've taken steps to increase your home's curb appeal but something is still missing. You've improved the landscape and planted flowers. Maybe you laid a new beautiful walkway, painted the front door, upgraded the house number and mailbox, and tried a number of other things to refresh your home's look but it's not quite where you want it to be yet. Perhaps what you need is new or updated siding.
Replacing or updating siding is a great way to breathe new life into your home's exterior. Old, rundown or outdated siding can leave a home with a drab or unappealing look. There are many things one can do to improve a home's look but at the end of the day, the home itself is the focal point. No matter how cute a house's accents or landscaping is, if the house itself lacks elegance the curb appeal will also suffer. This is why a siding makeover can be so impactful. 
In this article, we are going to highlight modern siding ideas to help transform a home and improve its curb appeal.
5 Siding Ideas that can Help Boost Your Home's Curb Appeal
Update a Traditional Look
No one said improving your curb appeal had to be a challenge. Sometimes your home simply needs an update or a fresh look.
Traditional siding styles can provide a timeless classical look, but over time siding can deteriorate or become outdated. By simply updating your home with fresh siding and a fresh new color you can give your home a fresh eye-catching pop of color. If you really want to upgrade things try adding a hint of modern elements to the exterior of your home for a modern twist on a classic look. 
Textured Siding and/or Accents
Does your home look pretty but feel cold or boring? Try adding textured siding or accents. Natural textures like stone and wood add warmth and beauty to a home. Depending on the design, one can create subtle beauty or something that is distinctly memorable.
Mixing textures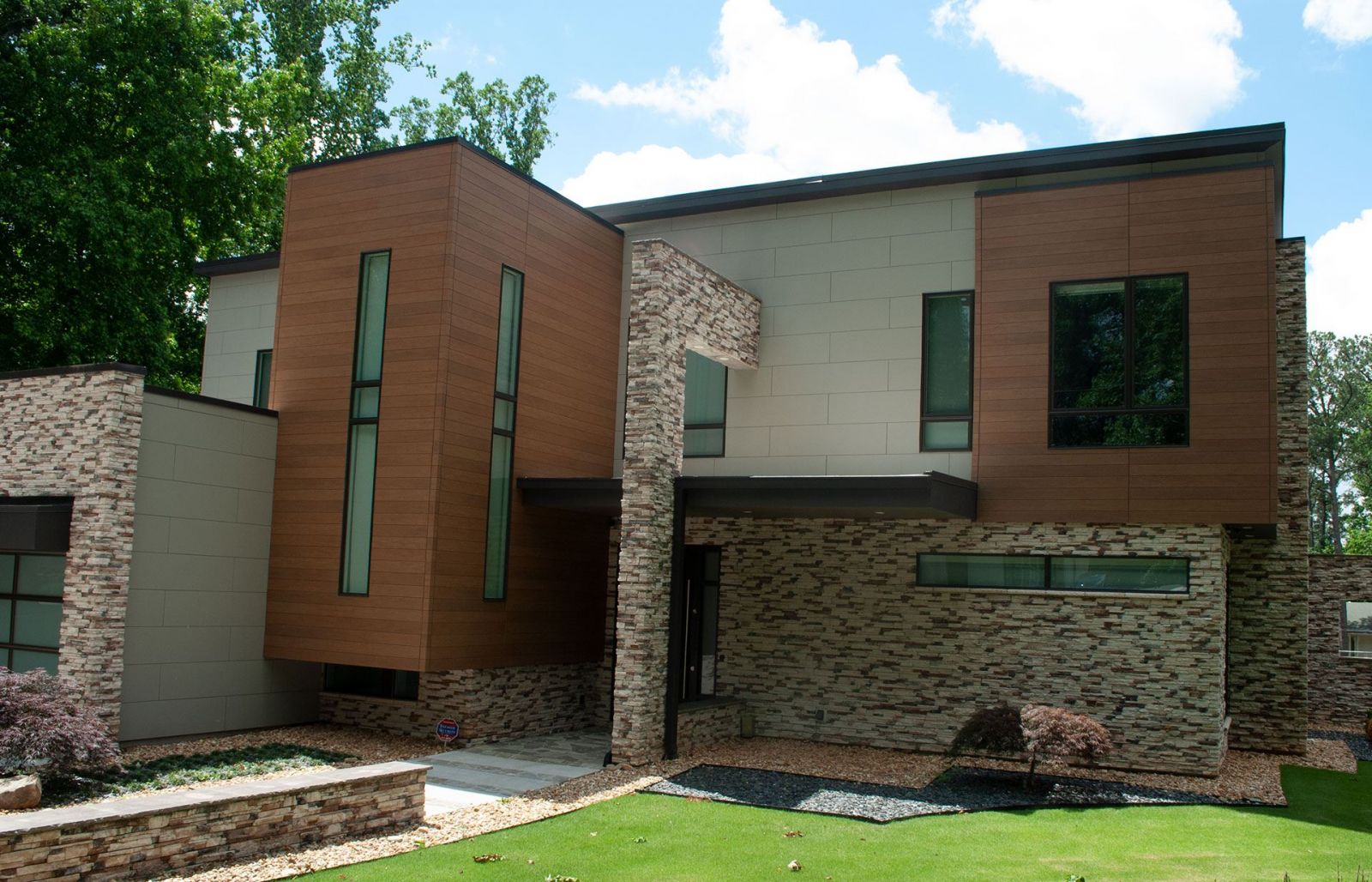 Why stop at one type of texture when you can mix it up? A trend in modern homes has been to utilize multiple textures to add dramatic appeal or to highlight different aspects of the home. What makes this work so well without feeling cluttered or messy is to create a neutral palette in the background or creatively placing textures so the home's exterior flows from section to section rather than clashing.
Dramatic or two-tone
If you want to not only improve your curb appeal, but want to add a statement then try taking your siding up a notch by using high contrasting shades. 
Much like statement pieces in a contemporary kitchen, this siding design style allows builders or homeowners to add their own distinctive mark. 
Update your trim
Do you love your home's look but feel it is missing something subtle? Perhaps you don't need new siding but new trim. Trim can be a fantastic accent to your siding and can bring together the different elements of your home's exterior. This way you can improve the look of your siding and improve your home's curb appeal.
How to find the right siding design to enhance your curb appeal
1. Consider the Style
Every home has a distinct design that can be enhanced by the right kind of exterior siding. And when it comes to style choices, homeowners have a lot of options. Wood, lap siding, shingles, shake, board and batten, beaded and the list goes on. Find a style that fits with the design of your home and that enhances the look of your overall curb appeal. 
2. Consider the Material
The materials your siding is made out of will determine the home's curb appeal now and as time goes on. Some materials look better. Some need more upkeep than others. Some materials like cement siding can even be designed to mimic the look of other materials while offering increased benefits. Considering what materials you use now not only affect the curb appeal now but in the next several years. 
3. Choose the right Color
There are near limitless color options, shades and combinations when it comes to siding. Color is of course an important factor in choosing siding as it will have a big visual impact on the home. A secondary impact that many don't consider is the color's energy impact. Darker shades tend to absorb more energy from the sun while lighter shades reflect it. 
While energy efficiency is important to some, the most important factor is the visual element. To explore color ideas you can use our siding color simulator tool. 
4. See it first-hand or ask an expert
At the end of the day, the best way to know if siding will enhance your home's curb appeal is to see it yourself. Sure you can just go for it and update your siding or request samples and compare them to your home's exterior, but that's not entirely necessary. By visiting an American Cedar & Millwork showroom in Deleware or Maryland you are able to view the different styles, materials and colors firsthand to see how an updated look may improve your home.
Of course, if you are completely unsure, there are always experts who can help you discover the best siding designs that will bring out the best in your home.