Submitted by

admin

on Mon, 11/11/2019 - 16:12
Marvin Signature: Modern home design inspired by you
Why go modern with your home design? At American Cedar & Millwork, we are proud window and door suppliers who have seen it all when it comes to millwork materials and designs. We can tell you there are plenty of reasons why modern home design is the way to go in 2020--but instead, let's take a look at Marvin Signature, and see for yourself, why modern home design has been a big go-to all year and continues to gain popularity.
If you could imagine nearly infinite possibilities when it comes to creative, modern home window design, this is exactly what Marvin Signature brings to the table. With a broad range of designs, sizes, configurations, and other options, homeowners get to experience all the differences in the intricate details of each item, from its high level of architectural precision and breathtaking aesthetics. Marvin Signature is the hallmark of Marvin's leadership and expertise in customer-focused design innovation.
Modern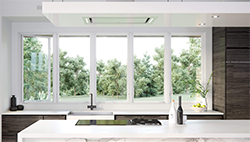 Inspired by the needs of architects and builders, Marvin's Modern window and door designs emphasize the simplicity and large expanses of glass that homeowners look for when their heart is set on bringing a modern twist to their home.
For homeowners looking for a true upgrade with high-quality windows and doors, the Modern collection comes with exceptional design options and high-performing action—creating a product line that meets the exact principles and standards of true modern architecture. An innovative high-density fiberglass material, leading thermal performance, consistent narrow sightlines, and a modular system are the components that gives the Modern product line its seamless approach towards modern design that homeowners love.
Ultimate
Marvin's Ultimate collection allows homeowners to create more of what they can imagine. Ultimate was made for homeowners who like to take part in the design process, down to the final detail. The Ultimate collection allows for the homeowners' complete vision to be met, offering beautiful design, craftsman-quality construction, and a wide selection of shapes, styles, sizes, and options. With versatile opportunities for customization across architectural styles, the Ultimate window and door collections can be applied to a anything from traditional, contemporary, transitional, or historic--whichever  style serves your vision and inspires the most.
The Signature Ultimate collection's design, craftsmanship, and almost limitless opportunities for customization, gives homeowners the creative freedom to add style to any space. Ultimate wood and wood-clad windows and doors are available in our most extensive selection of shapes, styles, sizes and options.
If you're still asking yourself, "Why go modern?" with your home design, Marvin's Signature Ultimate and Modern collections are the answers—especially if you're a homeowner looking for creative possibilities for your next home upgrade. American Cedar & Millwork is proud to be a local window and door supplier to homeowners of Raleigh, NC and look forward to work with you on your next modern home design project.
To find out more about Marvin Modern designs, click here. To learn more about how American Cedar & Millwork can assist you on your next home design project, click here.