Submitted by

admin

on Wed, 12/11/2019 - 18:16
Omega's kitchen and bath cabinets to close out 2019.
The holiday season has arrived and American Cedar & Millwork wants to show Baltimore how to add some style to their kitchen and bath cabinet design, going into the holidays and the new year.
Omega Cabinetry never fails to bring a cool and smooth style to any kitchen and bathroom.
Baltimore homeowners will be impressed when they experience what Omega brings to the table…or countertop. With Omega's Kitchen and Bath cabinetry designs, it's always the right time for a decorative upgrade. Click here and check out the Omega Cabinetry inspiration gallery, featuring creative ways to apply Casual, Contemporary, and Traditional collections to your kitchen or bathroom.
When it comes to kitchen and bath cabinets, keeping it simple has never been so appealing. The timeless allure of casual design is a perfect solution for any  basic kitchen or bathroom in need of a creative boost. The versatility of casual design allows homeowners to find balance in their living space. Pair casual with traditional styled elements and find the perfect balance between decorative and relaxing.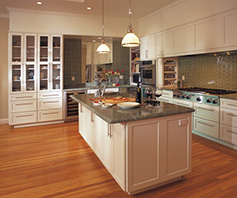 Contemporary cabinetry was made for those who aren't afraid to get edgy when designing their living space. For homeowners looking to send their kitchen and bathroom decor in a different, more creative direction, look no further than Omega's contemporary cabinetry. Walk the line between functional and artistic with this modern design and embrace the open space, bold colors, and minimal clutter.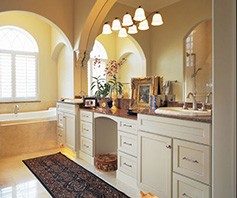 Nothing pairs a welcoming and inviting tone with undeniable elegance quite like traditional cabinetry. This design style can be described as strong, defined, and decorative. Most homeowners might not associate traditional styling with color variety or versatility, but Omega's traditional cabinetry collection is available in both light and dark color themes and perfectly pairs with elaborate elements and materials. Breathe new life in your kitchen and bathroom with old-world cabinetry.
With perfect timing just before the new year, Baltimore homeowners will be sure to find the perfect upgrade for their living space. At American Cedar & Millwork, we keep Baltimore homeowners impressed with our variety of millwork materials from some of the best brands around. Whether you're looking to upgrade your kitchen a modern twist, design a relaxing bathroom, or if you just want to keep it all casual (but far from modest), Omega Cabinetry has the perfect cabinetry options that will bring true character to your kitchen and bathroom.
To learn more about how we can assist you on your next project, or if you would like to see more from some of the other impressive brands we carry, click here.