Submitted by

admin

on Wed, 12/11/2019 - 19:48
Kitchen and bath cabinetry designs fit for your taste.
Choosing the right kitchen and bath cabinetry can be a tough decision. As a major factor in setting the tone for your home's overall feel, finding the perfect décor for each room can also be one of the most important decisions a homeowner has to make.
When creativity factors into a homeowners' decision, it's the decorative details that lend a sense of identity and individuality throughout the home. At American Cedar & Millwork, we are confident that homeowners throughout Lewes will find the  style that perfectly elevates  their kitchen or bathroom's ambiance to a higher level.
For homeowners that look forward to the creative process in choosing their cabinetry designs, here are a few ideas to help you decide:
Transitional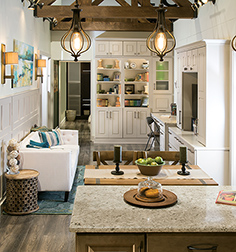 Transitional styles blend  comfort and warmth of traditional design  with with the clean profiles and understated colors of contemporary design. . Emphasis is placed on  modest details, and typically features neutral tones of whites, grays, and even some light shades of blue.
By applying transitional design, homeowners can mix it up by pairing a simple door style with a paint color that lends a subtle, but pleasing pop of color—and the results are always impressive. Here, we have a comforting space that radiates harmony and warmth.
Modern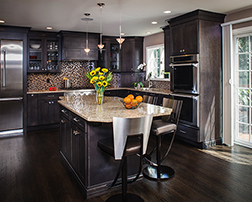 Modern design brings a sense of simplicity to your kitchen and bathroom space. When it comes to modern design, every element intends to bring a sleek crispness to the presentation.
Modern style cabinetry design typically explores colors and tones, with an accent or two taking center stage. Colors applied are simplistic, muted, and applied to glass, metal, and wood materials. Here, homeowners can truly embrace the simplicity, clean lines, technology, and effortless functionality--appropriate for Modern design's aesthetic demands.
Industrial
Raw and utilitarian, the appeal of industrial design style gives modern homes a sophisticated edge. Styling that brings a gritty and unfinished aesthetic, that combines bare and rough surfaces, with a clean and flat finish.Industrial style is at its finest when contrasting materials of iron, glass, and brick come together.
Mediterranean
Mediterranean style is perfect if you're looking for balance between primitive and cozy. But the rustic feel also brings a certain edge—making a true statement.
Mediterranean style is known for its uses of iron, exposed wood beams, multi-colored cabinetry, and a mix of metals to provide unique, ethnic flare. Color palettes vary from darker shades of brown to whitewashed tones of neutral colors. Homeowners who choose this style enjoy the hand-crafted, salvaged, or repurposed accessories made of wood, leather, natural fibers, wicker, and iron.
When it's time for you to get creative with your next home kitchen, bath or other remodeling project that included cabinets, Wellborn is full of inspiring collections. At American Cedar & Millwork, we know how tough it could be to choose the right décor style. That is why we carry products and materials from the most trustworthy and creative brands around. With Wellborn kitchen and bathroom cabinetry collections, creativity never felt so free.
To find out how the team at American Cedar & Millwork can assist you in your next home remodeling, click here.